"Why make it the cheapest when you can make it the best." -  Louis Konopelski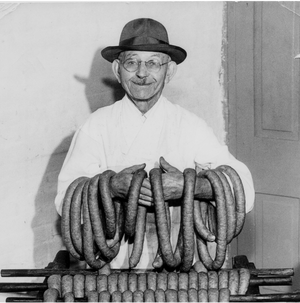 WELCOME!
Welcome to Konopelski Meats! (By the way it's pronounced Kono/pel/ski.) Our family has been providing authentic Polish meats to our customers since 1920 after our Great grandfather Louis Konopelski immigrated to America from Poland in 1903 with nothing but the shirt on his back and a recipe for Polish Kielbasa (I guess they didn't wear pants back then)!  For decades, our products were only available at our corner stores in Reading, Pennsylvania. Sadly, those stores are no longer open but fortunately you can purchase our products on our website, and select Farmer's Markets and Supermarkets in the North East.
great kielbasa good smoked flavor
dennis czuchra
Absolutely delicious sliced cold or served hot. The casing gives it a great snap. Thank you for making Konopelski's available to fans within mailing distance!
L. Regan
Buy it try it and see for yourself words cant explain the fresh taste but I'll try French bread kraut onions your favorite mustard omg!!!
Roland Walker