Konopelski's Kielbasa- Rope Style Packs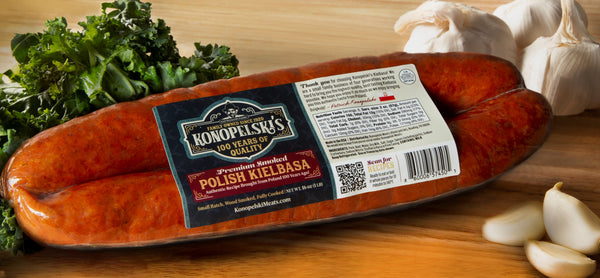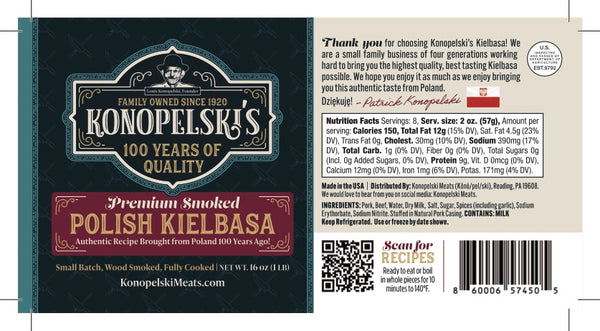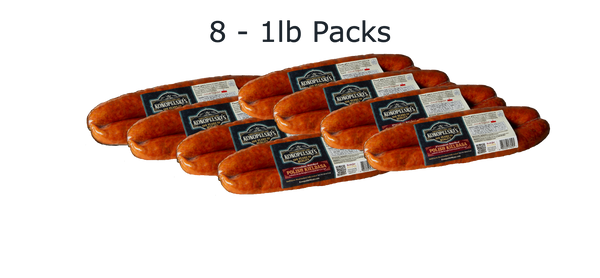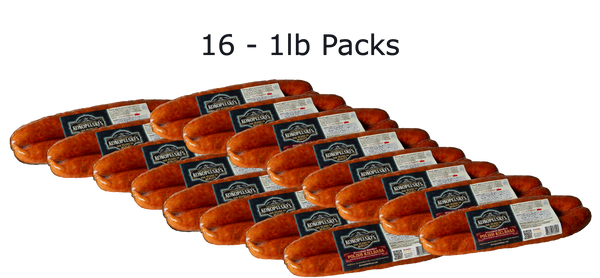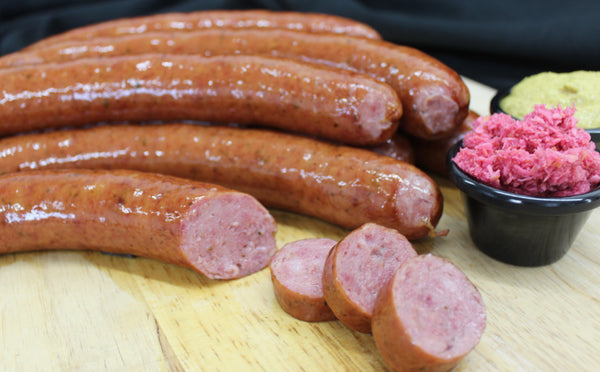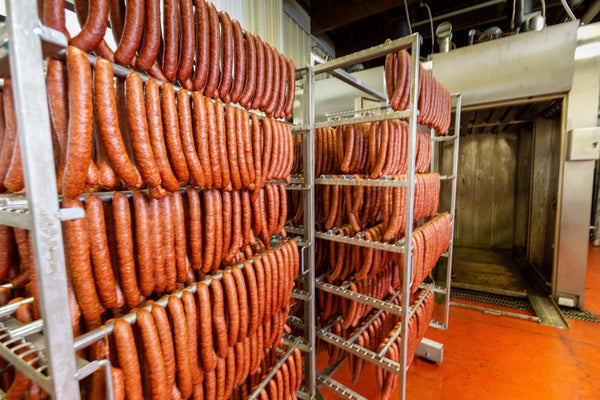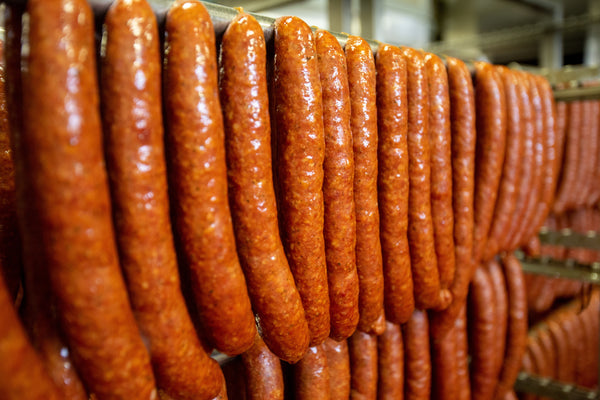 Products are only shipped on Mondays, Tuesdays, and Wednesdays

Our Flag Ship product.  Kielbasa (Polish Sausage) a fruit wood smoked sausage seasoned with that just right amount of garlic.   It is fully cooked and can be served hot or cold.  Perfect for Grilling, or served as an Appetizers, Entrée, Sandwich, Soups, One-dish Casseroles, Charcuterie boards, Kabob or Breakfast (Sorry we don't recommend serving it for Dessert!).
Please read: Shipping Information before ordering, Thank you.
What amount is right for you??
Well, Konopelski Kielbasa is great for entertaining and sharing with family and friends, it makes a great gift, it's vacuum packed so it can last up to 4 months in the refrigerator and up to 6 months in the freezer and you save money when you buy the larger size! So go ahead and order a little extra!!
Happy Marylander
Excellent service, delivery & great tasting kielbasa! I'll be back for more. Thanks
West Coast vs East Coast(to as far west as Chicago)
I'm a native southern Californian of Polish/Slovak heritage. Trying to find real kielbasa on the west coast is not easy. So when I ran across Konopelski's ad for kielbasa produced in Pennsylvania I placed an order and was not disappointed. The seasoning used and smoking done to produce konopelski kielbasa creates a mild sausage with a great flavor profile and a juicy end product when steamed, boiled or grilled. Grilling and/or frying does intensify the flavor. But just like all sausage, you have to be careful not to overcook the kielbasa otherwise you will lose that wonderful juiciness and mild flavor. I highly recommend Konopelski kielbasa, served with pierogi and kapusta. A perfect meal.
Delicious
I got so tired of grocery store, mealy, pasty polish sausages. I found Konopelski's online and I'll never go back. These are meaty and delicious. The skin has a nice snap. Orders are processed and shipped right away. Everything is perfect.
Authentic Polish Kielbasa
My husband grew up in East Reading & started eating Konopelski Kielbasa for over 70 years ago. We moved out of PA 30 years ago & are very glad we can now order online & have it shipped to us. I order for our gown up kids too & have it sent to them. We all agree Konopelski is the Best Kielbasa we've ever had.
Absolutely the most delicious Kleibassa we have ever eaten.
Full of flavour with just the right amount of garlic and so moist!
You have a new customer for life.